Quantum IoT Protect
The complexity of using IoT devices in the modern work environment such as hospitals, industries, and smart-buildings has, at cost, exposed them to ill-natured and harmful cyber attacks. Malicious cyber invasions into IoT devices have caused considerable financial loss to a number of enterprises. In addition to monetary loss and physical damage, these attacks can lead to data breaches, data tampering, ransomware, and even denial of service.
Check Point's Infinity for IoT delivers comprehensive IoT cyber-security by applying granular IoT-based policies.
Check Point's IoT protection solution mobilizes hospitals, industries, smart buildings and offices to reduce and even eliminate IoT attacks.
Identify and analyze IoT devices and traffic
Deploy IoT policy enforcement points
Identify and block IoT malicious intents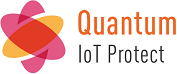 No Downloads were found. Try removing some of the filters.