Quantum WebApp Protector and SSL Protector
WebApp Protector:
WebApp Protector, Check Point's Web Application Firewall (WAF), ensures fast, reliable and secure delivery of mission-critical Web applications. WebApp Protector is an ICSA Labs certified and PCI compliant WAF that provides complete protection against web application attacks, web application attacks behind CDNs, advanced HTTP attacks (slowloris, dynamic floods), brute force attacks on login pages and more.

SSL Protector:
Check Point SSL Protector provides a simple one-box solution for high-performance visibility into enterprise SSL/TLS traffic. It removes the blind spot introduced by the rising use of SSL/TLS and allows security tools to inspect all traffic for possible breaches and leaks.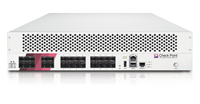 No Downloads were found. Try removing some of the filters.
No Documentation was found. Try removing some of the filters.