What are SmartConsole crash reports?
Technical Level
| | |
| --- | --- |
| Solution ID | sk97988 |
| Technical Level | |
| Product | SmartConsole / SmartDashboard |
| Version | R77.10, R77.20, R77.30, R80.10, R80.20, R80.30, R80.40 |
| Date Created | 02-Jan-2014 |
| Last Modified | 07-Feb-2020 |
Solution
When any of the SmartConsole applications crashes, it usually generates a crash report (an archive file).
The crash report includes a crash dump, a client log file, and general information related to the client machine on which the crash occurred and to the Security Management machine.
The crash report is usually saved in:
C:\Program Files (x86)\CheckPoint\SmartConsole\[Version]\PROGRAM\data\crash_report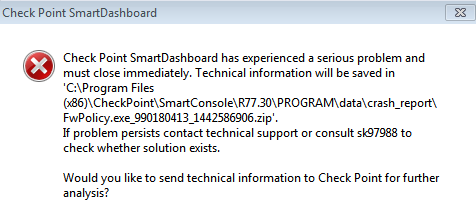 If a proper license is found, the user is prompted to send the crash report to Check Point for further analysis. If the user agrees, the crash report is then uploaded to the Check Point User Center, and later pulled by an automated process that analyzes the crash report.
Check Point encourages customers to send these crash reports, as they usually include valuable information on the crash cause. The more crash reports Check Point receives, the better are the chances that the root cause of the crash will be discovered and fixed.
Also, check if Microsoft's .NET Framework is installed.
Note: Each Check Point version has its own .NET version. For R77.x it is .Net 4.
If not, then install it. Usually the correct .NET Framework will be automatically installed with SmartConsole. However, if .NET Framework was blocked, then it will need to be installed separately.
| | |
| --- | --- |
| | This solution has been verified for the specific scenario, described by the combination of Product, Version and Symptoms. It may not work in other scenarios. |