Sync with User Center
Technical Level
| | |
| --- | --- |
| Solution ID | sk94064 |
| Technical Level | |
| Product | Quantum Security Management, Multi-Domain Management, SmartConsole / SmartDashboard, User Center |
| Version | R76, R77, R77.10, R77.20, R77.30, R80.10, R80.20, R80.30, R80.40, R81 |
| Date Created | 08-Aug-2013 |
| Last Modified | 14-Jun-2021 |
Solution
Introduction
The "Sync with User Center" feature lets users synchronize certain information regarding their environment to the Check Point UserCenter.
The additional information that is presented in the UserCenter account provides:
Better inventory management
Pro-active support
More efficient ticket resolution
Example of a UserCenter Account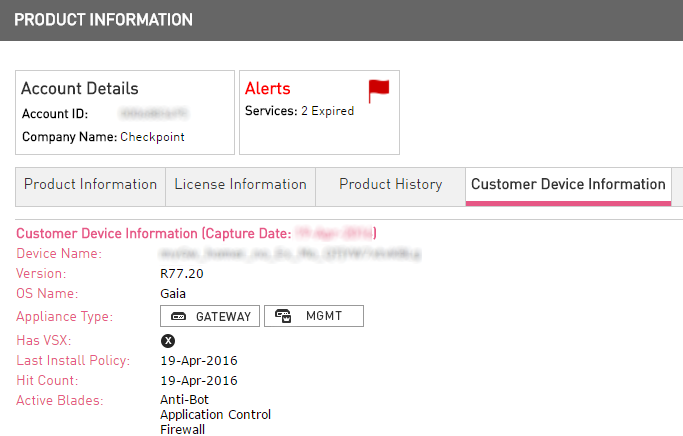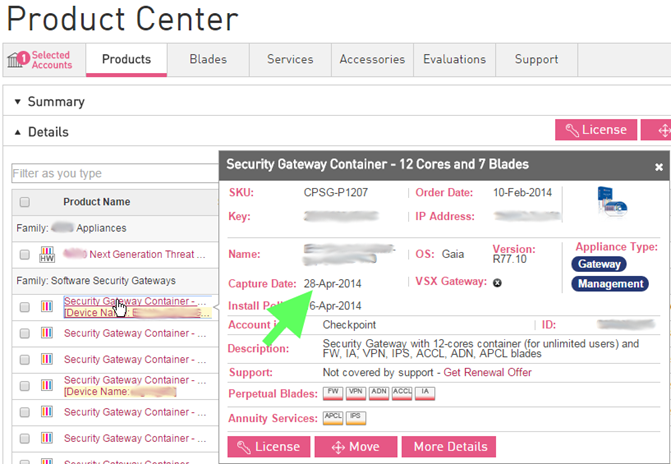 Prerequisites
Device with licenses and installed policy / database.

Uploading/downloading data to Check Point is allowed.

For details, refer to sk111080.

Internet connectivity to Check Point.

Connectivity between the Security Management Server and usercenter.checkpoint.com.

Proxy configuration (if needed).

For details, refer to sk83520.

MDS / Domain : Configure Proxy in the Gaia Portal.
Single-Domain: Proxy can be configured in SmartConsole / Gaia Portal.
Note: When proxy is configured in SmartConsole, the "Install Database" operation is required.
How to configure the "Sync with UserCenter" feature
In SmartConsole R80.10 and above

In SmartConsole, on the Navigation Toolbar, click "MANAGE & SETTINGS" > "Sync with UserCenter".

When synchronization is enabled, an update will occur once a day.



Note: For MDS, The above procedure needs to be done at least on one Domain Management Server in order to sync with the UserCenter.



In SmartDashboard R75.47 - R77.x

In SmartDashboard, go to the "Help" menu and click "Sync with UserCenter...".


Clicking the "Sync Now" button runs a relevant script on the Security Management Server. The script collects information from the Security Management database, as well as from the managed Security Gateways and writes it into the $FWDIR/conf/SMC_Files/SU/data_file.xml file.

Checking the box "Periodically sync server and gateways data with UserCenter" will run the script once a week.

Once the information is sent to Check Point, the User Center can present it in the list of "Software Products & Appliances".

Note: In a Multi-Domain Security Management Server environment, this feature is only available per Domain context. Currently, it does not work with Multi-Domain (MDS) context.
Which information is sent to Check Point User Center
The following information is sent to Check Point User Center:
Module name
IP Address
MAC Address
Version
Install Policy time stamp
Appliance model
Machine type (gateway/management/etc.)
OS
Is this VSX?
Cluster name (if exists)
Hit Count last time stamp
APPI last update
IPS last update
Hardware (memory, CPU, network card, etc.)
License data
Active blades
User/Kernel crash information
Non Private CPView history statistics
Related solutions
Known limitations
Some devices will not be displayed in the product list:
LSM gateway.
Multiple devices with the same CK (Bundles SKUs, Vsec).
For further assistance
contact Check Point Support
.