Endpoint Security Client Policy Optimization for Windows Servers
Technical Level
| | |
| --- | --- |
| Solution ID | sk179816 |
| Technical Level | |
| Product | Harmony Endpoint |
| Version | E86.x |
| Date Created | 16-Aug-2022 |
| Last Modified | 06-Dec-2022 |
Solution
The solution provides an option to manually assign specific Windows Server roles (such as Exchange server and Active Directory server) to the applicable server in Harmony Endpoint Web Portal for Endpoint Cloud servers only.
When you assign roles to servers, pre-defined exclusions to role-related processes, files, and folders are applied by policy. The exclusions were created based on Microsoft recommendations and internal Check Point research.
This option allows you to optimize Windows Server OS and Endpoint Security client performance.
Note
- Supported from
E86.60
Endpoint Security client version and higher.
How to assign a specific Windows server role:
Log in in to the Harmony Endpoint portal.
Navigate to Policy and set the Endpoint for Server Optimization to On.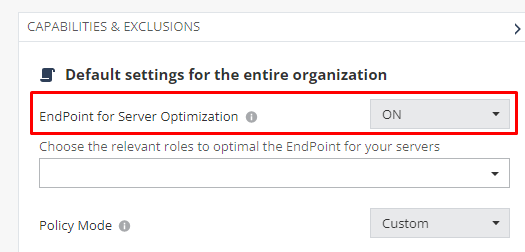 Click on drop-down menu and select the the role(s) for the appropriate policy rule. Exclusions of the selected role(s) is applied: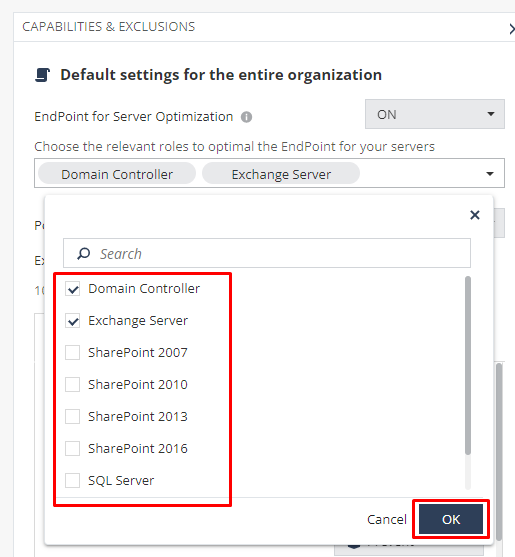 Install policy.
Endpoint Security clients of servers assigned to the rule download and apply exclusions for each selected profile(s).