DHCP Server configured on Gaia does not provide the NTP option
Technical Level
| | |
| --- | --- |
| Solution ID | sk179146 |
| Technical Level | |
| Product | Quantum Security Gateways, Quantum Appliances |
| Version | All |
| Date Created | 13-May-2022 |
| Last Modified | 15-May-2022 |
Symptoms
DHCP Server configured on Gaia does not provide the NTP option.

The DHCP Server distributes IP addresses correctly.
You configured the NTP option in the /etc/dhcpd.conf file correctly. See sk92473.
The client receives the other DHCP options correctly.
Linux machines receive the NTP with the DHCP packet.
Cause
The Server provides the DHCP options based on the Parameter Request List (Option 55) in the DHCP packet.
To see these options, inspect the packet in Wireshark.
Example packet for a Linux computer: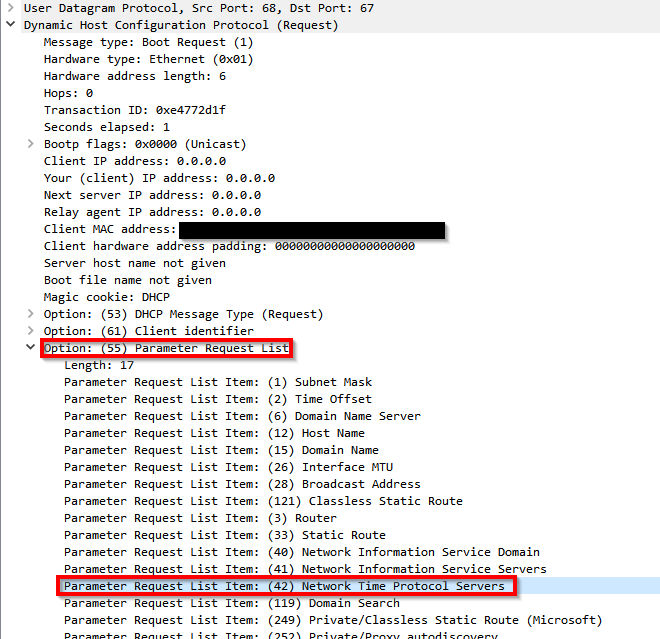 The Windows DHCP client does not request the NTP configuration from the DHCP Server. As a result, the DHCP Server does not provide the NTP option.
Example packet for a Windows computer: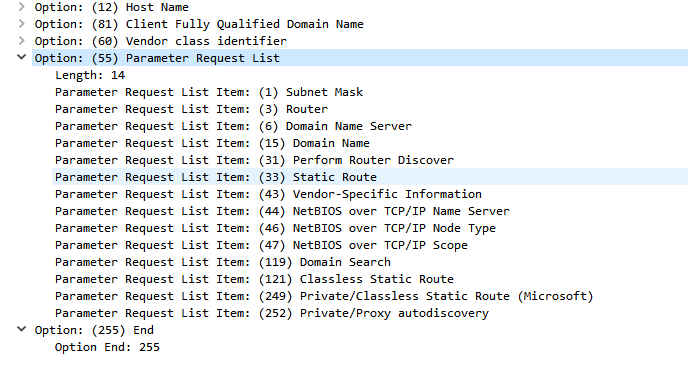 Solution
| | |
| --- | --- |
| | Note: To view this solution you need to Sign In . |