Protecting Azure PaaS services using CloudGuard for Azure
Technical Level
| | |
| --- | --- |
| Solution ID | sk176726 |
| Technical Level | |
| Product | CloudGuard Network for Azure |
| Version | R80.30 (EOL), R80.40, R81, R81.10, R81.20 |
| Platform / Model | Azure |
| Date Created | 10-Jan-2022 |
| Last Modified | 23-Nov-2022 |
Solution
Table of Contents
1. Overview

2. Azure private link introduction

3. Deploy and configure a PaaS service in Azure

3.1. Deploy a PaaS instance

3.2. Private Endpoint Creation

4. Configuring CloudGuard Network products to protect PaaS services

4.1. CloudGuard Controller configuration

4.2. East-West Traffic

4.3. Inbound Traffic

5. Limitations
Click Here to Show Entire Article
(1) Overview
Azure provides PaaS instances such as SQL servers and storage.
Unlike IaaS instances, PaaS instances do not have an IP and are accessible through FQDN.
CloudGuard Network offers protection support for environments with PaaS instances.
(2) Azure private link introduction
Show / Hide this section
Private Endpoint
Use Private Link to bring services delivered on Azure into your private virtual network by mapping it to a private endpoint, or privately supply your own services in your customers' virtual networks. Private Link keeps traffic on the Microsoft global network.
How it works
The design of a
private endpoint
enables access to a PaaS instance.
https://azure.microsoft.com/en-us/services/private-link/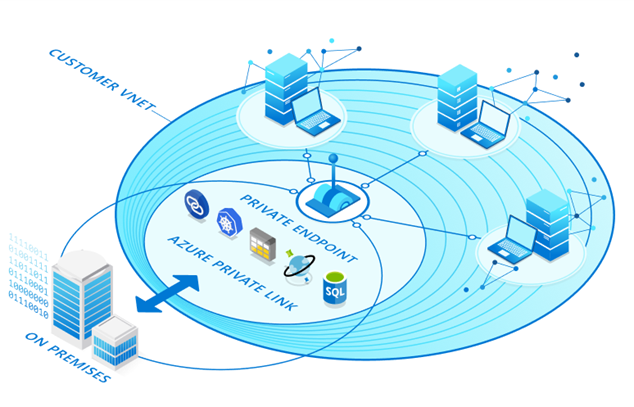 In this case, all the consumed resources stay on the Azure network. Because private links let you adjust the UDRs, you can secure and protect PaaS services, eliminating the "non-protected" access.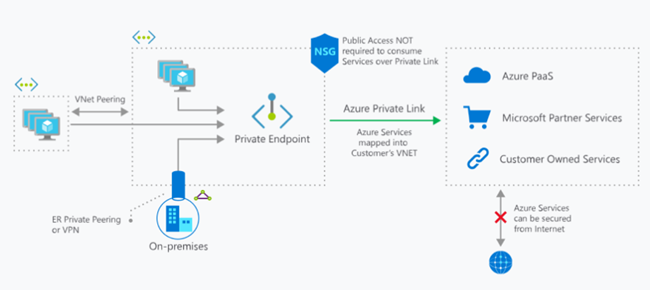 (3) Deploy and configure a PaaS service in Azure
(3.1) Deploy a PaaS instance
Show / Hide this section
The example below focuses on a SQL server. However, this solution can work with any PaaS instance.
If you have already deployed a PaaS instance, jump to step 3.2. - Private Endpoint Creation.
SQL Server:

Review + Create

This is the initial architecture after the SQL server creation:

As a PaaS service is deployed, it deploys behind Azure Gateways in Azure.
That means it is external to the VNET and can be accessed from everywhere.

To continue, create a private endpoint:
(3.2) Private Endpoint Creation
Show / Hide this section
No tags are necessary

Review + Create

When the deployment is completed, enter the private endpoint's resource and make sure the status is Approved:

Enter the PaaS resource

Deny public network access below Firewalls and virtual networks :

This disables public access to the public FQDN.

Click Save
(4) Configuring CloudGuard Network products to protect PaaS services
(4.1) CloudGuard Controller configuration
Show / Hide this section
The CloudGuard Controller supports private-endpoint objects and make the configuration easier.
The private endpoint is supported in the Controller starting the following takes:
Azure R81.20 and above – upgrading is unnecessary.
Azure R81.10 – minimum requirements: Jumbo hotfix Take 14
Azure R81 – minimum requirements: Jumbo hotfix Take 51
Azure R80.40 – minimum requirements: Jumbo hotfix Take 140
(4.2) East-West Traffic
Show / Hide this section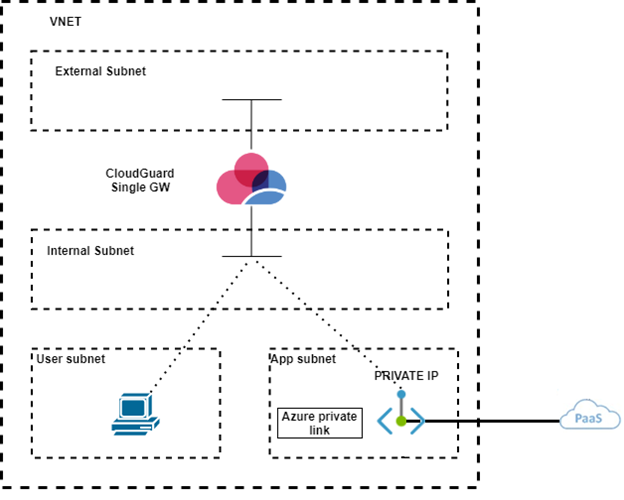 Background
Azure default routes allow direct traffic between subnets.
When a private endpoint is created, Azure creates a system route to its private IP. Therefore, it is necessary to overwrite this route to inspect the traffic and audit logs.
Configuration
Sanity Check:

At this time, you can see that all VMs in the VNET are familiar with the new private endpoint private IP.
If you pick a VM and translate your PaaS instance FQDN to an IP address, you should see a private IP address. Try to use "nslookup" with the PaaS instance FQDN.

Add UDR:

Imply a UDR on the Client subnet from it through the Gateway

Review + Create

Configure a new route rule

Destination: PaaS instance's Private Endpoint (Use full subnet /32).
Next Hop Type: Virtual appliance Next Hop IP address: The NVA - Check Point's Gateway public IP.

For example, for this architecture:

Configure this:

Click OK.

Add static-routes on the Gateway:

Make sure that the Gateway contains static routes for the Client's subnet and for the subnet on which the private-endpoint resides.
Use the command "route".

If static routes are not present, add them:
set static-route <YOUR-CLIENT-SUBNET-NETWORK-IP> nexthop gateway address <YOUR-GATWAY'S-DG> priority 1 on
set static-route <YOUR-HOST-SUBNET-NETWORK-IP> nexthop gateway address <YOUR-GATWAY'S-DG> priority 1 on

In our example, we see these two routes in the Gateway:

(4.3) Inbound Traffic
Show / Hide this section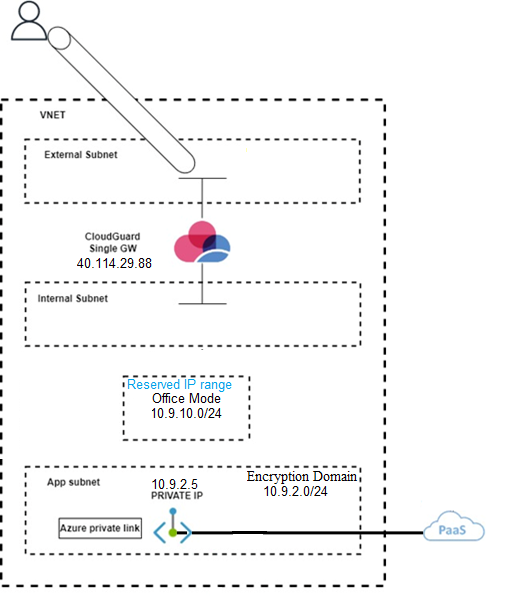 Background
This solution involves Remote Access VPN.
To configure Remote Access VPN to a VMSS:
Configure CME as explained in the CloudGuard Network for Azure VMSS R80.10 and Higher Administration Guide > Configuration Steps > Step 14: (Optional) Configure and Deploy the Remote Access VPN Client.
In the example above:
Office Mode –10.9.10.0/24
Encryption Domain – 10.9.2.0/24



To Configure Remote Access VPN to a Single Gateway:
Double click on the Gateway object

Set Office Mode - static office-mode pool with "hide behind Nat":

This is a network that is not currently used (nor in the future).

Set the pool in the Gateway's object -> VPN Clients -> Office Mode:

Allow Office Mode to all users

Alternative for static office mode pool – Automatic DHCP

Allow Office Mode to all users

Add automatic DHCP

Create a network group consisting of:

The client's subnet - internal network of the Gateway

Public IP of the Gateway (as type: host)

Select default

Enter Check Point's Endpoint Security:
(5) Limitations
Show / Hide this section
Source NAT must be used (in West-East traffic)
UDR and NSG configurations don't have effects on private endpoints.
UDR implemented on user/client subnet must use the private endpoint IP address as destination (a.b.c.d/32)
You can not configure more than one PaaS instance to the same private endpoint.
A PaaS instance can be attached to multiple private endpoints; therefore, it is essential to make sure that other private endpoint access if configured, is inspected.
| | |
| --- | --- |
| | This solution has been verified for the specific scenario, described by the combination of Product, Version and Symptoms. It may not work in other scenarios. |