How to use the EPPatch.msi and cached password to restore connectivity after January 1st 2021 VPN fails
Technical Level
| | |
| --- | --- |
| Solution ID | sk171341 |
| Technical Level | |
| Product | Endpoint Security VPN, Endpoint Security Client, SandBlast Agent |
| Version | E80.81, E81, E80.97, E80.96, E80.94, E80.92, E80.90, E80.95, E80.89, E80.88, E80.87, E80.86, E80.85, E80.84, E80.83, E80.82 |
| OS | Windows |
| Date Created | 31-Dec-2020 |
| Last Modified | 03-Jan-2021 |
Solution
Background
This solution uses the admin password cache to install the Endpoint Security VPN patch that mitigates this issue.
This article applies to:
E81.10, E81, E80.96, E80.94, E80.92, E80.90, E80.81, E80.82, E80.83, E80.84, E80.85, E80.86, E80.87, E80.88, E80.89, E80.95, E80.97
Endpoint Security VPN/Endpoint Security Client/SandBlast agent for Windows 7 and Windows 10.
Note - For security reasons that administrator must change his domain password before distributing the file to the end users. The password is embedded obfuscated in the generated installer.
To implement this workaround:
Change the administrator password
Download EPPatchEx.msi and EPPatchExConfig.exe files to the same directory
Open the folder from step #2 and double click EPPatchExConfig.exe

The EPPatch admin utility opens (see the below image), Configure:

The path to the EPPatchEx.msi file
Administrator name
Domain name
The administrator password (before the change in step #1)
For Endpoint Security Client/SandBlast agent add the Uninstall Password.

Note - this is not needed for the Endpoint VPN Client.

Click save, a new installer (.msi) file is created.
Distribute the newly created file to the affected clients.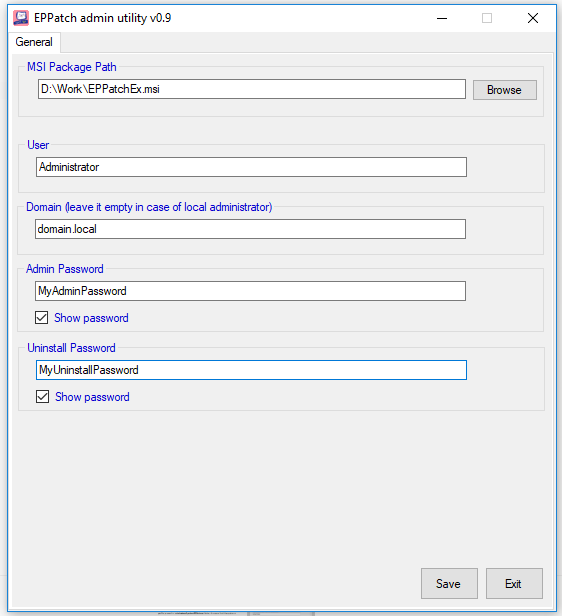 The new installer file (.msi) runs on the client's machine and fix the issue.
Instructions for the end user:
Get the file provided by the administrator
Run the file by double clicking it.
---
Note -
For more information about the cached password mechanism see
https://docs.microsoft.com/en-us/previous-versions/windows/it-pro/windows-server-2012-r2-and-2012/hh994565(v=ws.11)
| | |
| --- | --- |
| | This solution has been verified for the specific scenario, described by the combination of Product, Version and Symptoms. It may not work in other scenarios. |