Autonomous Threat Prevention Management integration Release Updates
Technical Level
| | |
| --- | --- |
| Solution ID | sk167109 |
| Technical Level | |
| Product | Quantum Security Management |
| Version | R80.40, R81, R81.10 |
| Date Created | 10-Jun-2020 |
| Last Modified | 14-Jun-2022 |
Solution
Show the Entire Article
Availability | Released Takes | List of resolved issues
Introduction
Autonomous Threat Prevention Management (ATPM):
New Threat Prevention management, that uses Smart Cyber Policy from the cloud.
Provides out of the box Threat Prevention profiles based on business & IT security needs
Easy assignment of policy profile that is tailored to your needs.
Automatic update of Threat Prevention policy profiles to protect against the latest cyber threats using the latest technologies.
Zero day-to-day maintenance required from the administrator, while maintaining optimal security. Administrators still have manual configuration capabilities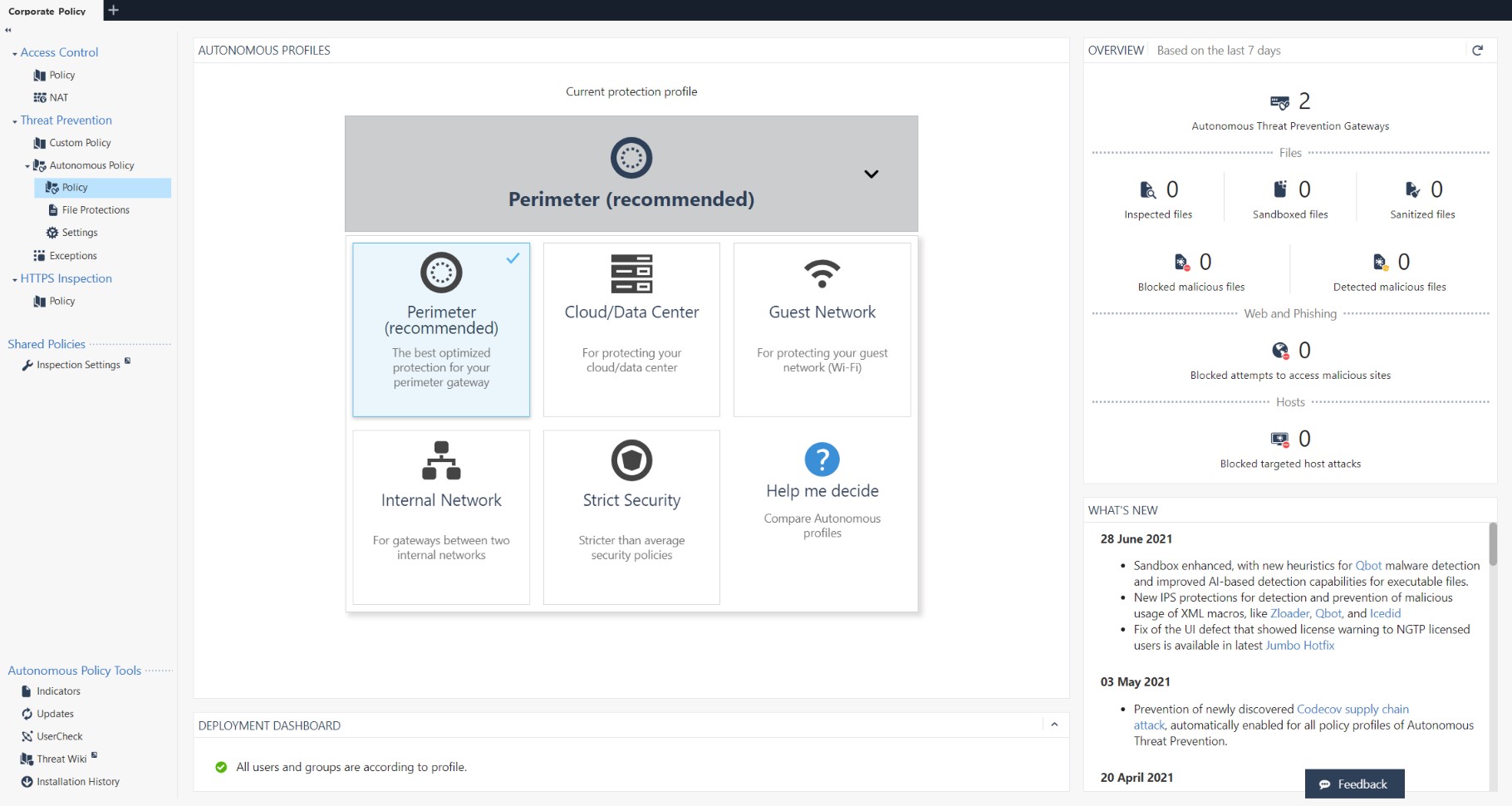 Availability
| | | | | | |
| --- | --- | --- | --- | --- | --- |
| Update | Release Date | GOT_TPCONF | GOT_TPCONF_MGMT | GOT_MGMT | DC_INFRA |
| 15 | 14 Jun 2022 | (Take 107) | (Take 36) | (Take 101) | (Take 30) |

Where:

GOT_TPCONF_MGMT, GOT_MGMT and DC_INFRA - Management packages
GOT_TPCONF - a Security Gateway package
Released Takes
Show / Hide Released Takes
Date
Description
Package
Take
14 Jun 2022
Update 15
GOT_TPCONF
107
GOT_MGMT
101
20 Mar 2022
Update 14
GOT_MGMT
99
GOT_TPCONF
104
dc_infra
30
09 Dec 2021
Update 13
GOT_MGMT
95
GOT_TPCONF
97
dc_infra
34
03 May 2021
Update 11
GOT_MGMT
91
GOT_TPCONF
91
25 Feb 2021
Update 9
GOT_MGMT
82
GOT_TPCONF
86
25 Jan 2021
Update 8
GOT_MGMT
80
GOT_TPCONF
84
dc_infra
26
03 Dec 2020
Update 7
GOT_MGMT
32
GOT_TPCONF
78
dc_infra
22
03 Nov 2020
Update 6
GOT_MGMT
74
GOT_TPCONF
75
dc_infra
21
12 Oct 2020
Update 5
GOT_MGMT
72
01 Oct 2020
Update 4
GOT_MGMT
71
GOT_TPCONF
30
dc_infra
63
10 Sep 2020
Update 3
GOT_MGMT
65
GOT_TPCONF
52
13 Aug 2020
Update 2
GOT_TPCONF
50
15 Jul 2020
Update 1
GOT_MGMT
56
GOT_TPCONF_MGMT
25
GOT_TPCONF
35
dc_infra
18
Manual Installation
Show / Hide Instructions
Note: first, install
Check Point R80.40 GA
Step 1 - Download and install the Autonomous Threat Prevention package GOT_TPCONF on the Security gateway (on cluster, install on each member):

Copy the Gateway package to the Security Gateway and put it in a new folder (name it GW_PKG).
Download the installItpDarwin.sh script and place it to the GW_PKG folder.
Give permissions to the script (chmod +x installItpDarwin.sh)
In the GW_PKG folder, run this script: ./installItpDarwin.sh --local $(pwd)
When finished, script shows 'Finished'




Step 2 - Install 3 Autonomous Threat Prevention packages on the Management server:

Copy the Management packages to the Security Management Server and put them in a new folder (name it MGMT_PKG).
Download the installItpDarwin.sh script and upload it to MGMT_PKG folder.
On the Security Management Server, give permissions to the script (chmod +x installItpDarwin.sh)
In MGMT_PKG folder, run this script: ./installItpDarwin.sh --local $(pwd).
When finished, script shows 'Finished' and a list of the installed packages.
In SmartConsole under Threat Prevention profile, you will see Autonomous Threat Prevention




Step 3 - Enable Autonomous Threat Prevention on a Security Gateway Object:

In SmartConsole, go to Gateways & Servers, right-click the Gateway and click Edit.
Go to the Threat Prevention tab (right-lower section of the window) and select Autonomous Threat Prevention.
Click OK




Step 4 - Create an Autonomous Threat Prevention policy (if you already have a Threat Prevention policy package, skip to step 5):

In SmartConsole, go to main Menu and select Manage policies and layers
The Manage policies and layers window opens
Click New - the New Policy window opens
Enter a name for the policy package.
In the General page > Policy types section, select Threat Prevention (you can select more policy types if required).
In SmartConsole, go to Security Policies > Infinity Threat Prevention > Policy
From the drop-down list the 5 pre-defined profiles, select the required profile
Click Ok




Step 5 - Install the Autonomous Threat Prevention policy:

In SmartConsole, from the main menu, select Install policy
Select Threat Prevention
Select the your gateways targets for policy installation
Note: The Autonomous Threat Prevention policy will be installed on gateways with Threat Prevention Infinity enabled. Gateways with no Threat Prevention Infinity enabled will receive the traditional Threat Prevention Policy
Click Install
Success criteria: Install policy success
Verify the policy is enforced - download malicious file and verify prevention and correct log generated
List of Resolved Issues and New Features per Update
ID
Description
Update 15 (14 June 2022)
ODU-385
NEW: Web Zero-day Phishing Prevention is now available for all R81.20 EA customers with an NGTX license.


The protection is automatically enabled in the Autonomous Perimeter and Strict Security profiles.
The new Configuration Overview panel prompts fixing potential protection misconfigurations.

Update 14 (20 March 2022)

ODU-283

In some scenarios, Blade Global Exceptions may not be optimized for CPU consumption.
Network feeds and Updatable objects are not supported in ATPM, including as part of Network Groups.
When installing policy with Network Feeds or Updatable Objects which are part of Network Groups or stand-alone, an obscure message may be displayed.
Update 13 (15 July 2021)
ODU-154
UPDATE: Prevention of Codecov supply chain attack is automatically enabled for all policy profiles of Autonomous Threat Prevention.
UPDATE: Sandbox enhanced, with new heuristics for Qbot malware detection and improved AI-based detection capabilities for executable files.
UPDATE: Added new IPS protections for detection and prevention of malicious usage of XML macros, like Zloader, Qbot, and Icedid
The License absence warning may be shown to NGTP licensed users.
Update 11 (03 May 2021)
ODU-112
NEW: Added customization capabilities to support RTF files. All Gateways with enabled Sanitization will clean RTF files from potentially malicious content.
NEW: Automatic optimization of a Threat Prevention policy according to the appliance RAM usage during policy installation: for appliances with a lack of RAM, Autonomous Threat Prevention Management will automatically disable Sanitization technology. An administrator will be notified and can check the status under the "Device and information" section
NEW: In Autonomous Threat Prevention Settings menu, it is now possible to control if the policy package is optimized for rapid file delivery (unknown files delivered after the initial scan, before the final verdict from Sandbox) or for maximum security (files delivered after the final verdict from Sandbox).
UPDATE: Adjusted suffix of sanitized files (".cleaned" by default)
UPDATE: Threat Emulation Sandbox is enhanced with advanced anti-evasion techniques to improve prevention of malware that tries to detect emulation and hides its malicious activities.
UPDATE: Microsoft Exchange Zero-days exploits. On March 2, 2021, Microsoft shared details on multiple severe vulnerabilities (CVE2021-26855, CVE-2021-26857, CVE-2021-26858, CVE-2021-27065) targeting Microsoft Exchange Servers. Microsoft reported that those vulnerabilities have been detected as exploited.

The following IPS protections have been released for the relevant vulnerabilities:


Microsoft Exchange Server Remote Code Execution (CVE-2021-26855; CVE-2021-27065)
Microsoft Exchange Server Remote Code Execution (CVE-2021-26857; CVE-2021-26858)

Update 9 (25 February 2021)
ODU-89
Added various detection enhancements and code improvements.
Update 8 (25 January 2021)
ODU-82
NEW:

Profile Security Settings Override and Sanitization Preferences are now available in the Settings tab.
Added "Share Feedback" component at the bottom of the screen.

Update 7 (03 December 2020)
ODU-76
Added various detection enchantments and code improvements.
Update 6 (03 November 2020)
TPM-2286,
TPM-2552,
TPM-2565
NEW: Added ability to configure via Management API, Sandbox (Threat Emulation) and Sanitization (Threat Extraction). Refer to sk169952.
TPM-2558
Search in the Deployment Dashboard may not filter the result.
Update 5 (12 October 2020)
TPM-2321
Policy statistics may not be visible.
Update 4 (01 October 2020)
PMTR-58049
In some scenarios, policy installation on Virtual System may fail when ITPM is enabled.
Update 3 (10 September 2020)
TPP-613
NEW: Added the File Protections tab. It provides detailed visibility of file type actions per profile and an option to override default profile actions.
Update 2 (13 August 2020)
-
Improvements in IPS Profile settings.
Update 1 (15 July 2020)
-
UPDATE: Added Sandboxing support for the following MacOS file types: app, dmg and pkg.
By default, these file types will be sandboxed by all the Gateways.
-
UPDATE: Added File Reputation and Sandboxing support for the following archive types: RPM, WIM, CHM, LZH, MSI, ARJ, CPIO, AR, CramFS, QCW2, UDF.
By default, these file types will be inspected by all the Gateways.