Few Remote Access clients that do not support Multi-Factor Authentication (MFA) are able to connect to a Security Gateway even though "Allow older clients" is disabled
Technical Level
| | |
| --- | --- |
| Solution ID | sk166912 |
| Technical Level | |
| Severity | Low |
| Product | IPSec VPN, Mobile Access / SSL VPN |
| Version | R80.10 (EOL), R80.20 (EOL), R80.30 (EOL), R80.40 |
| Date Created | 17-May-2020 |
| Last Modified | 30-Jul-2020 |
Symptoms
Few Remote Access clients that do not support Multi-Factor Authentication (MFA) are able to connect to a Security Gateway even though "Allow older clients" is disabled.
Cause
Non-default authentication settings for remote access were configured. "Allow older clients to connect to this gateway" is unchecked.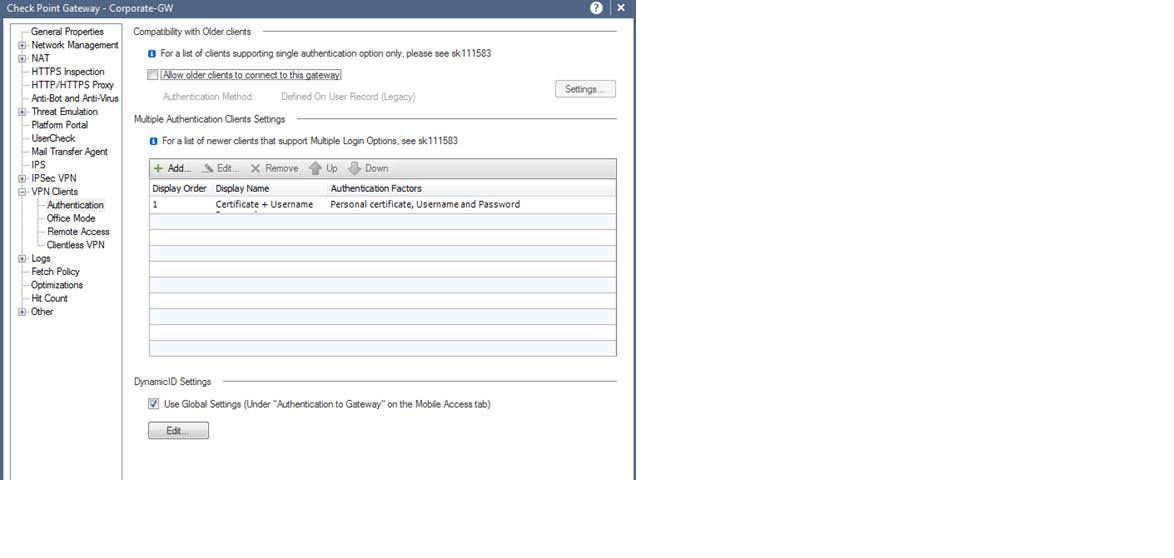 Authentication is configured under Multiple Login Options, however due to enforcement mishandling, few clients are still able to connect using different authentication scheme.
Solution
This problem was fixed. The fix is included in:

If you choose not to upgrade, Check Point can supply a Hotfix. Contact Check Point Support to get a Hotfix for this issue.
A Support Engineer will make sure the Hotfix is compatible with your environment before providing the Hotfix.
For faster resolution and verification, please collect CPinfo files from the Security Management Server and Security Gateways involved in the case.
Applies To: