Cannot access WebUI on allowed subnet
Technical Level
| | |
| --- | --- |
| Solution ID | sk166498 |
| Technical Level | |
| Product | Quantum Spark Portal, Quantum Spark Appliances |
| Version | R77.20 |
| OS | Gaia Embedded |
| Platform / Model | 1100, 1200R, 1400, 600, 900, 700 |
| Date Created | 18-May-2020 |
| Last Modified | 02-Jun-2020 |
Symptoms
The user is unable to reach the WebUI of the Gateway.
fw ctl zdebug drop shows the following: "dropped by fw_handle_first_packet Reason: WebUI/SSH access attempt from unallowed source;"
In Device > Administrator Access > Specified IP address..., the source IP address being dropped is included in a subnet range defined in this list.
Another IP on this list is within the subnet defined.
Cause
There is an overlapping IP address in the defined subnet.

Solution
If you have a single IP defined that is within a subnet that is also defined, the subnet will be ignored.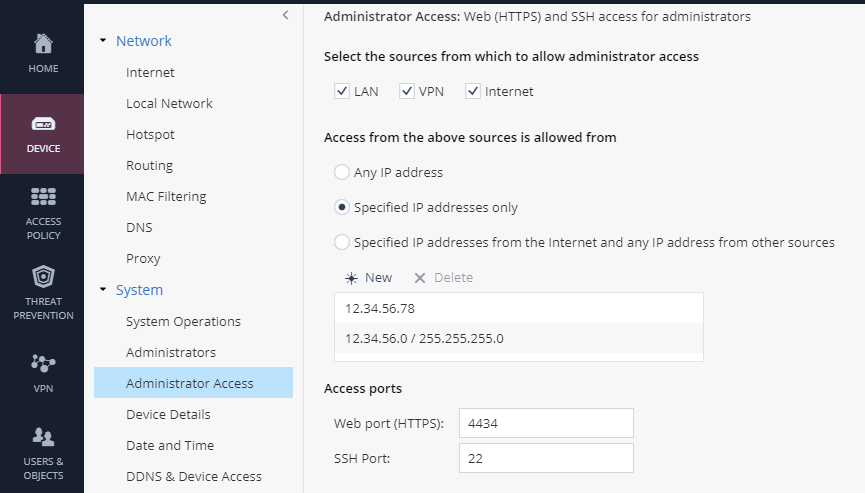 You can fix this by removing the single IP. The subnet will then be allowed access.
| | |
| --- | --- |
| | This solution has been verified for the specific scenario, described by the combination of Product, Version and Symptoms. It may not work in other scenarios. |