Harmony Connect - data storage and privacy
Technical Level
| | |
| --- | --- |
| Solution ID | sk164292 |
| Technical Level | |
| Product | Harmony Connect |
| Version | All |
| Date Created | 31-Dec-2019 |
| Last Modified | 22-Feb-2021 |
Solution
Check Point's Harmony Connect consists of four layers:
Enforcement

: applies Cybersecurity Access Control, Threat Prevention and HTTPS Inspection. Stores data only for the duration of the user's session, e.g., current IP address and user name.

Logs: stores data concerning traffic, source, destination, as well as Threat Prevention intelligence, application, and user identity.
Management: stores the security policy as configured by the security administrator, as well as a list of protected assets (the branch sites), and various settings.
Infinity Portal

: Check Point's cloud web management for security services hosts Harmony Connect as well as additional services such as Harmony Email & Office, Quantum Smart-1 Cloud, and others. The Infinity Portal stores global settings such as administrator names, emails, phone numbers, admin audit logs, API keys, account settings, notifications, and admin profile settings.
The administrator determines the location of the enforcement. Each site has the Location of the cloud service property.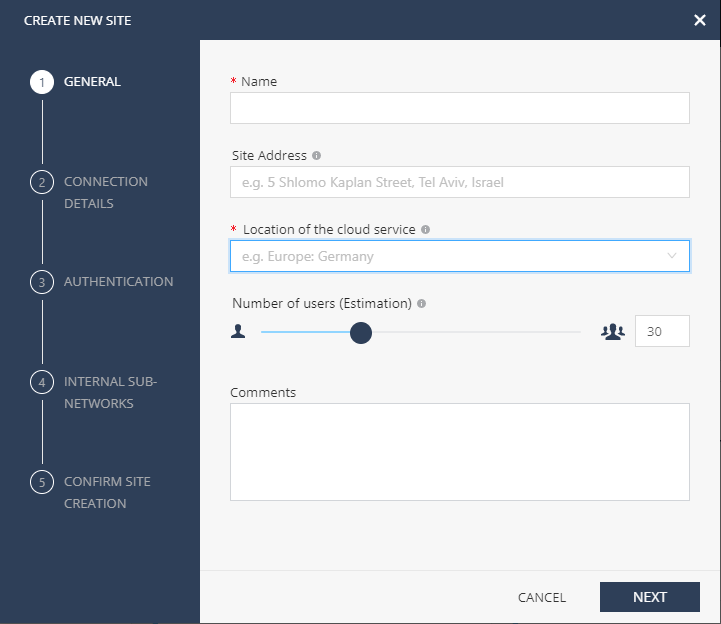 The location of the logs and management is Ireland.
The administrator determines the location of Infinity Portal data upon account registration.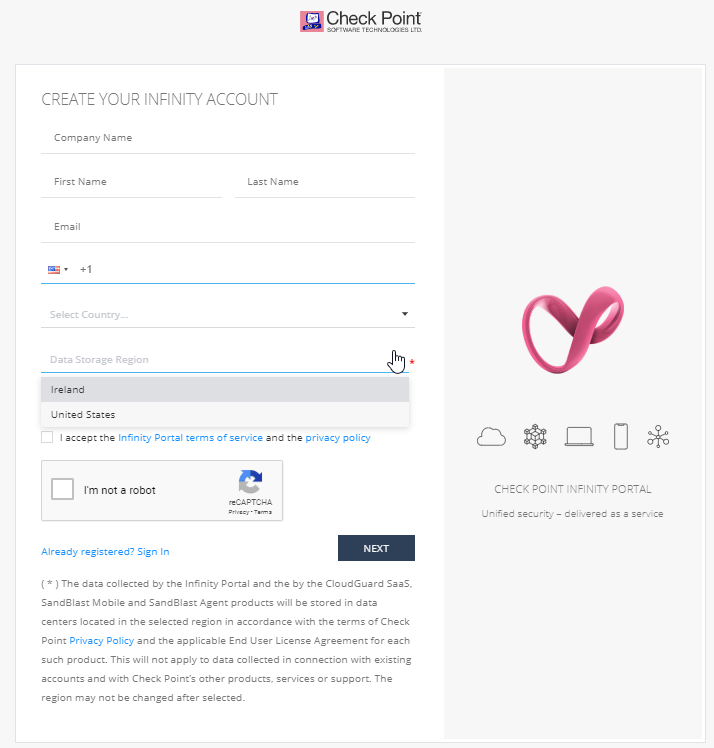 Check Point's Privacy Policy is available here. Selected paragraphs include:
"Through our cloud security services, traffic and security reports that include information on the internet usage of the organization's computer users (e.g. what websites were visited by each user, any documents downloaded, security incidents, prevention measures taken by the gateway, etc."
"We have extensive controls in place to maintain the security of our information and information systems. Client files are protected with safeguards according to the sensitivity of the relevant information. Appropriate controls (such as restricted access) are placed on our computer systems. Physical access to areas where Personal Data is gathered, processed or stored is limited to authorized employees."
"As a condition of employment, Check Point employees are required to follow all applicable laws and regulations, including in relation to data protection law. Access to sensitive Personal Data is limited to those employees who need to it to perform their roles. Unauthorized use or disclosure of confidential client information by a Check Point employee is prohibited and may result in disciplinary measures."
"When you contact a Check Point employee about your file, you may be asked for some Personal Data. This type of safeguard is designed to ensure that only you, or someone authorized by you, has access to your file."
"How long we will hold your Personal Data for will vary and will be determined by the following criteria:
the purpose for which we are using it - Check Point will need to keep the data for as long as is necessary for that purpose; and:
legal obligations - laws or regulation may set a minimum period for which we have to keep your Personal Data."
| | |
| --- | --- |
| | This solution has been verified for the specific scenario, described by the combination of Product, Version and Symptoms. It may not work in other scenarios. |