Microsoft WSUS support in Compliance blade
Technical Level
| | |
| --- | --- |
| Solution ID | sk164060 |
| Technical Level | |
| Product | Endpoint Security Client |
| Version | E83.20 (EOL) |
| OS | Windows |
| Date Created | 17-Dec-2019 |
| Last Modified | 21-Jan-2021 |
Cause
Solution
Supported Versions
Client: E83.20 and above
Server: All
Scope
This feature provides integration of Windows Updates checking into Endpoint Security Client Compliance Blade.
On-premise WSUS and cloud Windows updates server are supported.
Compliance Blade verifies presence of non-installed Windows updates. If there are non-installed updates whose "released date" are older then configured value – machine will be marked as non-compliant.
How to use
Using Registry (Compliance)
Open policy configuration tool on "Smart Endpoint"
Open Compliance policy
Find "Latest Service Packs Installed" policy option, click on it and select "Clone Action"
Set name of cloned policy. "WSUS check" for example
Set comment. "WSUS check" for example
Delete all rules
Create a new rule and name it. "WSUS" for example.
Create a new check


Set check name. "WSUS_Check" for example.
Choose arbitrary "Operating system"
Set "Registry key" field
Key should be in format: wsus_check_<updates grace period in days>. Example: "wsus_check_35"
Set "Registry value" field
Value should be in format: wsus_check_<updates grace period in days>. Example: "wsus_check_35"
Note: Number should be the same as in previous field

Add check into Rule


Save everything and deploy the policy to the EPS client
*Notes
-
The feature can be added to client version lower then E83.20.
For more information please Contact Check Point Support to get a Hotfixed package with this feature.
A Support Engineer will make sure the Hotfix is compatible with your environment before providing the Hotfix.


The WSUS integration with Compliance blade is scanning for machine drivers and OS update.
In order to get a custom package that scanning only one of the components (Drivers or OS updates) please raise a new service request.
Separating the WSUS API component scan

From version E84.40, a new feature was added to the Compliance WSUS check.
In general, when the WSUS check is configured in the Compliance blade, it will automatically check if there are missing updates for the machine Drivers, and for the OS.

You can separate the WSUS scan process to scan only one component by following the steps:
Open SmartEndpoint -> Compliance policy -> WSUS configuration
Double-click the 'WSUS_Check' rule
At the same line, where are you adding the 'wsus_check_<days number>', type blank space and add the options below as per your request:

type_software - will scan only for Windows missing packages
type_driver - Will scan for the machines drivers updates

Install policy
In fact, the new configuration should look like the screenshot below: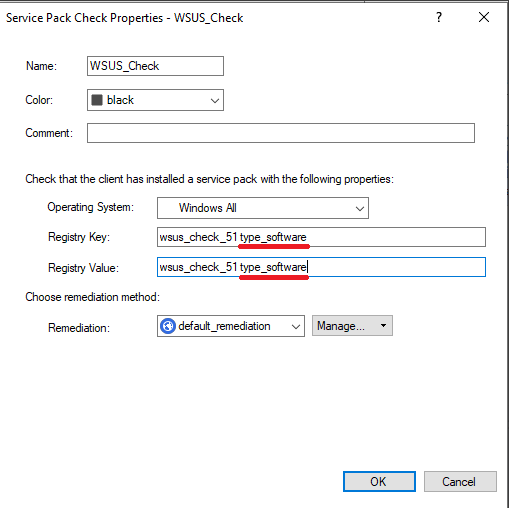 *Notes
-
A blank space must to added between 'wsus_check_51' and 'type_software' - 'wsus_check_35 type_software'
If non of the options were added, the WSUS API will automatically check for both OS and Drivers updates.