How to submit a Support ticket for Harmony Connect
Technical Level
| | |
| --- | --- |
| Solution ID | sk154712 |
| Technical Level | |
| Product | Harmony Connect |
| Version | All |
| Date Created | 28-May-2019 |
| Last Modified | 27-Feb-2022 |
Solution
Note: If you are having trouble opening a ticket after reading the instructions below, use the Comment section at the bottom of this page.
Click Here to Show all Items
Anyone can open a Check Point User Center account, including users evaluating our product trials. With Check Point's User Center, you can access our SecureKnowledge (SK) system, open support tickets, evaluate products, and join discussions at the CheckMates cybersecurity community.
In the User Center login page, click Sign Up Now.

Fill out the form with your information and click Submit.

Log in to your mailbox and look for an email sent by user_center@checkpoint.com with the subject "Check Point User Center." Click the activation link in the email.

Set a password and click Submit. You can see a confirmation message. Click Back to get to the User Center login page.

Sign into your new User Center account, click ASSETS/INFO and select My Accounts.

In the page that opens, click Create Account. Fill out the form and click Submit.

Wait for approximately an hour for the support system to sync with the changes.
1. Under SUPPORT/SERVICES, select Create a Service Request and then click Create a new SR.

2. Make sure that Service Request Type is set to Technical Cloud Issue.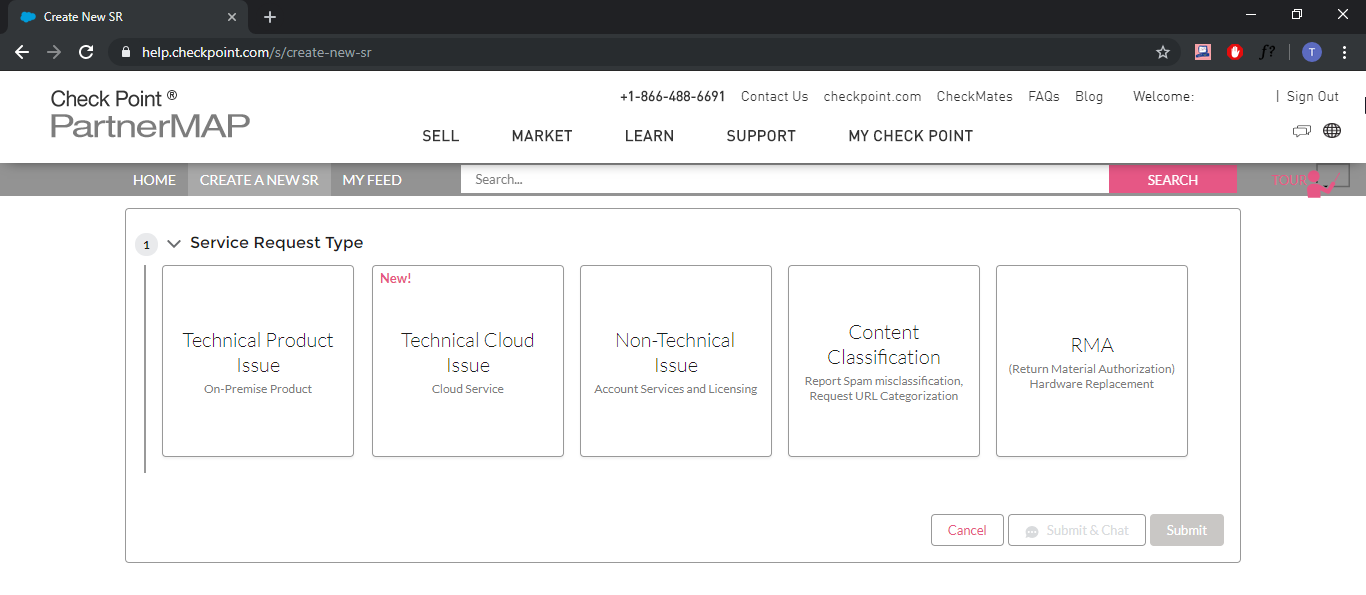 3. Select your User Center account that you defined at Step 1: Make sure you have a valid User Center account.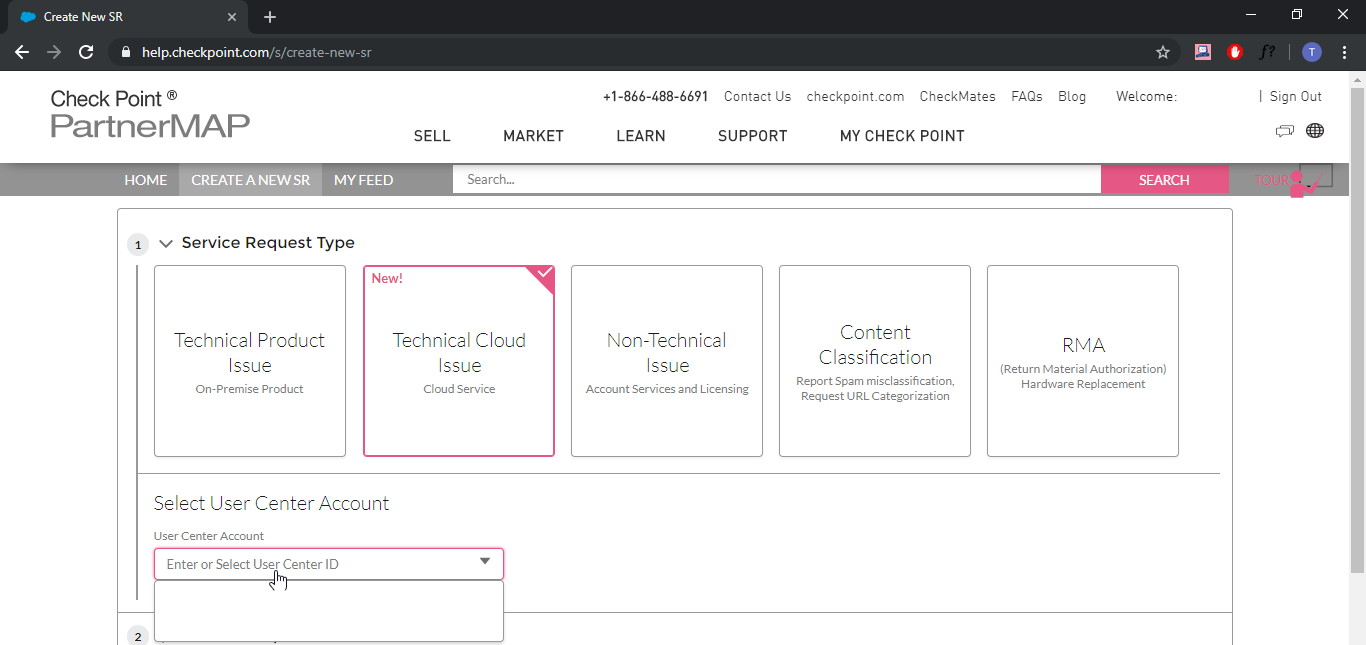 4. You should now be forwarded to Step 2: Service Request Details.
5. Under Cloud Service, choose CloudGuard Connect. CloudGuard Connect has been the former name for Harmony Connect.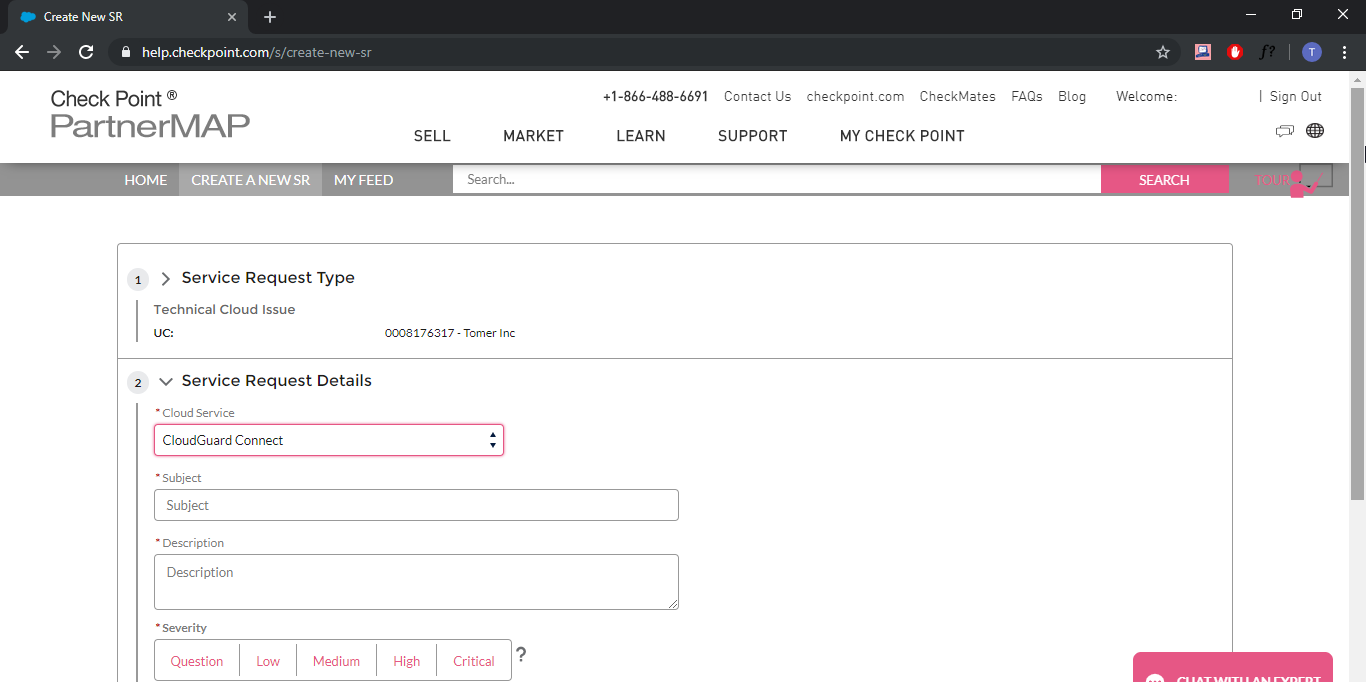 6. Describe your issue in Subject and Description. You can also attach screenshots and files that are relevant to the issue.

Important fields to mention:
Infinity Portal Account ID - available under Global Settings > Account Settings.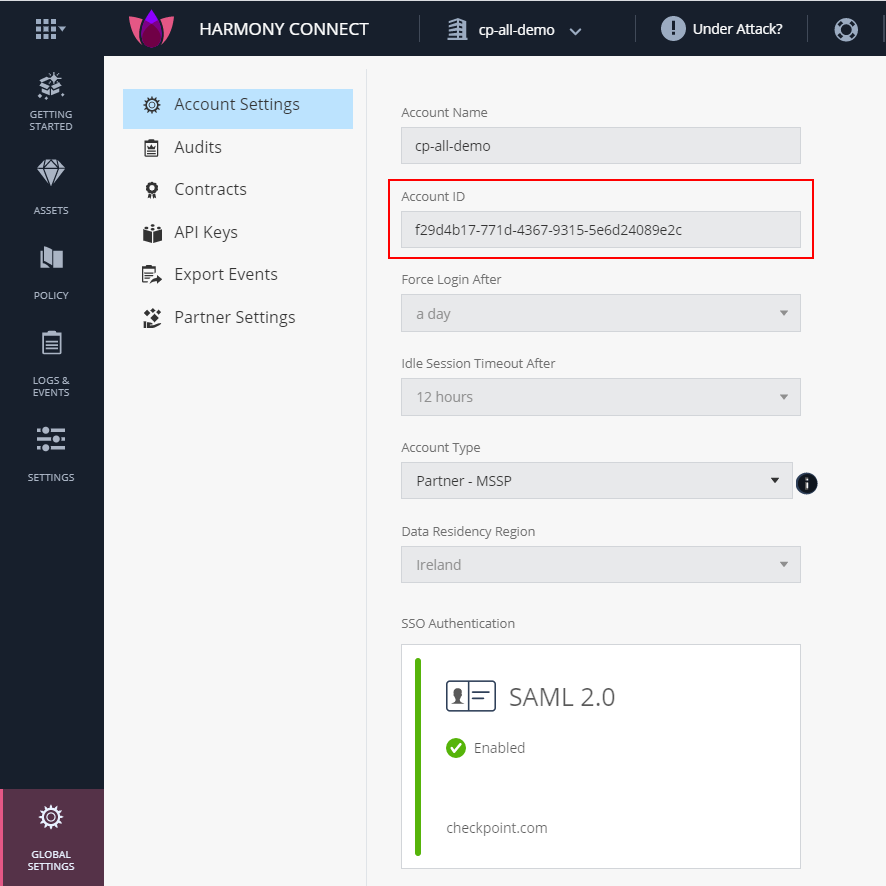 If this issue happens to one of the administrators that use Infinity Portal, mention the email address that is used to access the portal.

If the issue happens for remote users that use Harmony Connect App, attach the end user Client ID and Company ID - available by clicking the Harmony Connect tray icon

, selecting Support

and selecting the Client ID.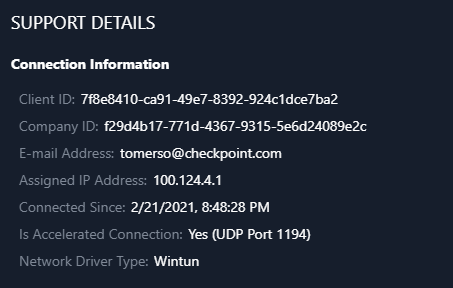 Check Point uses the information you enter in the Severity field in order to assign the right employee to your case.
Critical Severity: connectivity issues for existing sites, or no logs for specific user traffic.
High and below Severity: failure to create new sites or edit existing sites or policies.
Check Point Support could lower the severity value if it does not meet these criteria.
Note that clicking Add Contact Information (Optional) might modify the ticket. This option is reserved for users with a valid paid support contract.
7. Click Submit or Submit & Chat.
| | |
| --- | --- |
| | This solution has been verified for the specific scenario, described by the combination of Product, Version and Symptoms. It may not work in other scenarios. |