Integrate Splunk with CloudGuard Dome9
| | |
| --- | --- |
| Solution ID | sk144657 |
| Product | CloudGuard Dome9 |
| Version | All |
| Date Created | 03-Feb-2019 |
| Last Modified | 03-Feb-2019 |
Solution
Integrate Splunk with CloudGuard Dome9
Push
Here's how to connect Splunk to CloudGuard Dome9 with a push method:
Download and install the Dome9 App for Splunk
Set up an HTTP collector in Splunk
- Set the sourcetype as aws-dome9 and make sure to save the token that you create
Create a new lambda function with the Splunk-logging blueprint
Variables:

Input the token you created when setting up the HTTP Collector
Set the trigger for the function to be the Dome9 SNS topic that was created above.
To test and verify, pull up the Dome9 Splunk app and then log in and out of the Dome9 UI. You should see the login event populate in the Splunk Dome9 dashboard.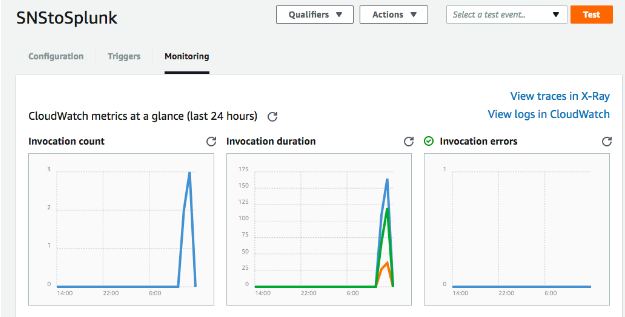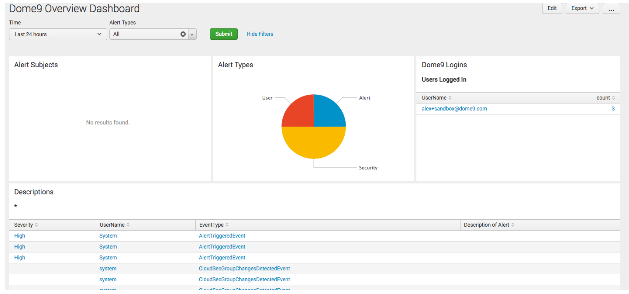 Pull
Here's how to collect events with a pull instead of a push.
Create a new SQS queue (e.g. dome9-events) and subscribe it to the Dome9 SNS topic you had created
Download the SQS-PyPoller and follow the setup instructions (Create IAM user, Provide permissions to SQS, Set config file with proper permissions and how you would like to output the events)
When you've configured the .conf file, you can choose where to output the events. Depending on where you are running this, you will need to select whether you want to dump the events to a file or syslog, but from there you can set Splunk to collect like any other local source/file.
| | |
| --- | --- |
| | This solution has been verified for the specific scenario, described by the combination of Product, Version and Symptoms. It may not work in other scenarios. |