How to distinguish between CMM700-AA and CMM700-CC
Technical Level
| | |
| --- | --- |
| Solution ID | sk138652 |
| Technical Level | |
| Product | Quantum Scalable Chassis |
| Version | R76SP.10 (EOL), R76SP.20 (EOL), R76SP.30 (EOL), R76SP.40 (EOL), R76SP.50 (EOL) |
| OS | Gaia |
| Platform / Model | 44000, 64000, 61000 |
| Date Created | 14-Nov-2018 |
| Last Modified | 19-Nov-2018 |
Solution
Background
On N+N chassis types (61K N+N, 44K, 64K) there are two types of CMMs: CMM700-AA and CMM700-CC. The difference between the two depends on the hardware, CPU, and memory chip.
For CMM700, there are two major SW versions: 3.4x and 3.7x (and above).
Version 3.4x supports CMM700-AA only.
Version 3.7x and above supports both CMM700-AA and CMM700-CC.
Explanation
CMM700-CC was introduced due to the EOL of several hardware components in CMM700-AA. To support this change, version 3.7x was created.
Working with the combination of hardware is supported, meaning that a single chassis can include one CMM700-AA and one CMM700-CC.
Working with a combination of SWs is supported but not recommended (can be used in a transition phase). Meaning, a single chassis can contain one CMM700 running version 3.4x and one CMM700 running version 3.7x.
We always want to have the same version on all CMMs in the setup.
In some cases, it is important to distinguish between the two types of CMMs (for instructions on how to do this, see below).
For example:
When an RMA is performed for CMM700, the old unit might be CMM700-AA and the new unit might be CMM700-CC. In this case, one CMM in the chassis can have version 3.4x installed and the second 3.7x. It is important not to downgrade CMM700-CC to version 3.4x but instead to upgrade CMM700-AA to version 3.7x.
Solution
To check the CMM type, do the following:
Log into the CMM and run the following command:
# getenv prodrev
On CMM700-AA the expected output is:
prodrev=AA

On CMM700-CC the expected output is:
prodrev=CC
To run commands on the CMM, there are two options available:
Direct console connection to the relevant CMM.
Use SSH to connect to the active CMM. SSH is also available from the active CMM to the standby CMM over the usb0/1 interfaces:

From 192.168.1.130 to 192.168.1.131 and vice versa.
From 192.168.1.2 to 192.168.1.3 and vice versa.
If the CMM is not operational, the CMM type will be marked on a label on top of the CMM.
The label will indicate ShMM-700R-AA or ShMM-700R-CC: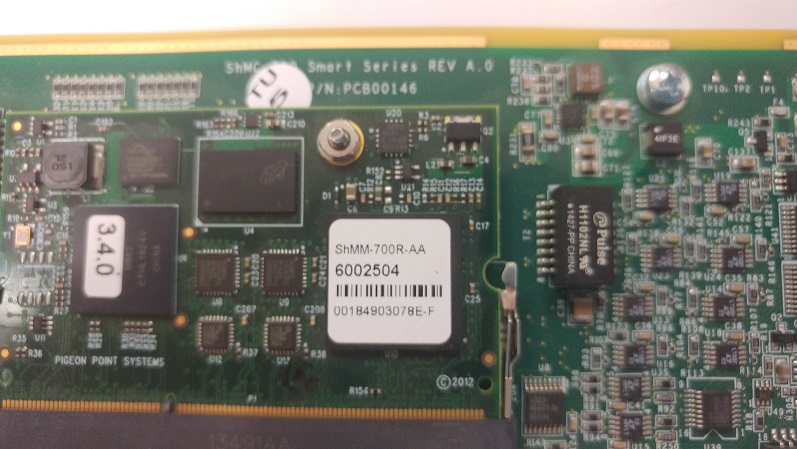 | | |
| --- | --- |
| | This solution has been verified for the specific scenario, described by the combination of Product, Version and Symptoms. It may not work in other scenarios. |