VSX licenses on Management Server R77.30 and above using NGSM Licensing
Technical Level
| | |
| --- | --- |
| Solution ID | sk119075 |
| Technical Level | |
| Product | Licensing, VSX, Quantum Security Management, Multi-Domain Management |
| Version | R80, R80.10, R77.30 |
| OS | Gaia |
| Date Created | 24-Jul-2017 |
| Last Modified | 17-Oct-2018 |
Solution
In NGSM licensing model, we will only count the Active and Standby Virtual Systems when counting the number of managed VSX Gateway slots on the Management Server that are required to manage the Virtual Systems.
Backup Virtual Systems are not counted.
In the following example with three physical VSX cluster members and four Virtual Systems, the required number of managed VSX Gateway slots are 8 (4 Virtual Systems x 2 Active and Standby):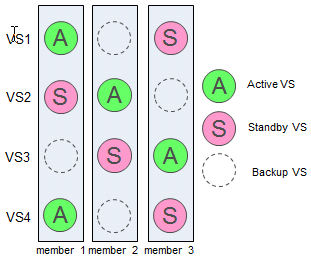 Adding additional Backup Virtual Systems does not require any changes in the license on the Management Server, because the number of managed Virtual Systems will not change.
| | |
| --- | --- |
| | This solution has been verified for the specific scenario, described by the combination of Product, Version and Symptoms. It may not work in other scenarios. |
Applies To:
VS0's are not counted in NGSM license unlike the "old" licenses. It is not seen as counted BUT it should be mentioned.