Source Hide NAT is performed even though a no-NAT rule is configured
| | |
| --- | --- |
| Solution ID | sk117612 |
| Product | Security Management, SmartConsole / SmartDashboard, Security Gateway |
| Version | R80, R80.10 |
| OS | Gaia |
| Platform / Model | All |
| Date Created | 26-May-2017 |
| Last Modified | 27-Jun-2018 |
Symptoms
Traffic captures (fw monitor) show that the source IP address is translated to one of Physical IP's of the Security Gateway even if there is a no-NAT rule configured.
Traffic arrives to next-hop with the NATed IP address.
Changing the NAT method of the "Original Packet" rule to "Static-NAT" instead of "Hide-NAT" resolves the issue.
Cause
By design, the Security Gateway default value of no-NAT rule should be Static-NAT.
However, in R80 and R80.10 Security Management server, users can change NAT method of "Original packet" to hide-NAT, which can cause the Security Gateway to perform NAT on the Source-IP configured in this particular rule, even when there is a no-NAT rule configured.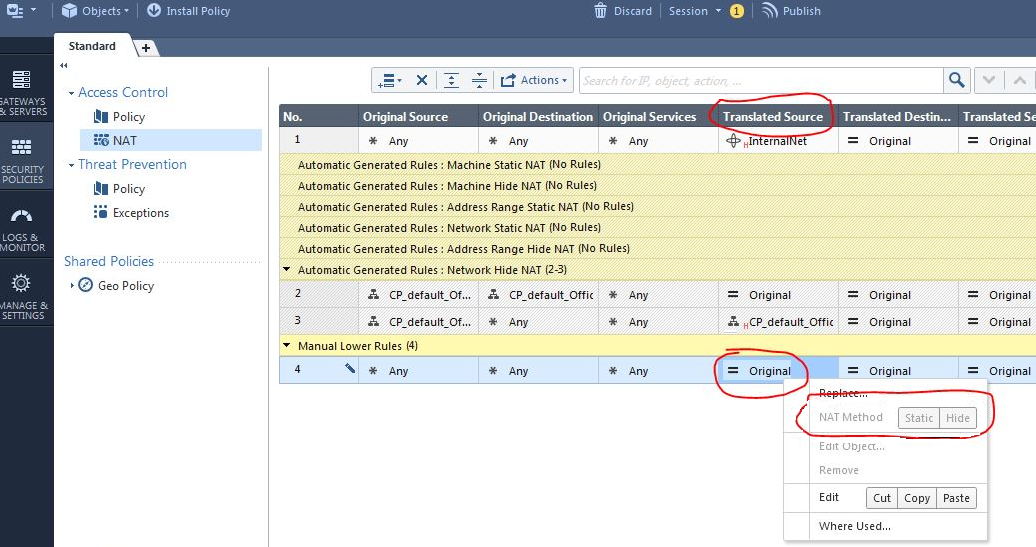 Solution
| | |
| --- | --- |
| | Note: To view this solution you need to Sign In . |