Bypass/Inspect rule by Category in HTTPS Inspection policy works for some sites but not others
| | |
| --- | --- |
| Solution ID | sk113935 |
| Product | HTTPS Inspection, Application Control |
| Version | R77.30 |
| Date Created | 30-Oct-2016 |
| Last Modified | 09-Jan-2018 |
Symptoms
A Bypass/Inspect rule by Category in the HTTPS Inspection policy works for some sites but not others.
The "Issued To" section of the problematic website's SSL Certificate does not reflect the site that is being accessed.
Cause
HTTPS Inspection categorizes based on the 'CN' or 'Issued To' portion of the website's SSL Certificate.
An example of this is as follows:
1) A Bypass rule is in place for the "Gambling" category:

2) The majority of sites are bypassed, but not gambling.com
3) The certificate of gambling.com prevents us from bypassing it as 'Gambling', by default. The CN "ssl315896.cloudflaressl.com" will not be categorized as 'Gambling'.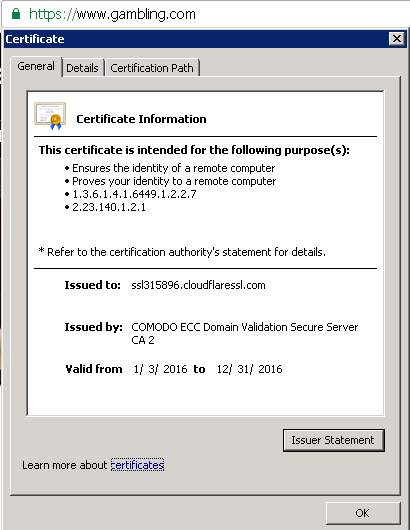 Solution
| | |
| --- | --- |
| | Note: To view this solution you need to Sign In . |