Security Checkup - Languages Support for R80
Technical Level
| | |
| --- | --- |
| Solution ID | sk112136 |
| Technical Level | |
| Product | SmartEvent / Eventia Analyzer |
| Version | R80 (EOL), R80.10 (EOL), R80.20, R80.30 |
| OS | Gaia |
| Date Created | 01-Jul-2016 |
| Last Modified | 10-Jun-2019 |
Solution
Follow these steps to generate the report in your local languages:
Download the relevant localized template file to your SmartConsole computer:

English, German, Spanish, French, Japanese, Chinese, Korean, Russian.

Extract the downloaded ZIP file into some folder.

Open the SmartView or SmartConsole.

On the left Navigation toolbar, click on the LOGS & MONITOR app.

In the left tree, click on the Reports.

On the toolbar, click on the Actions button - click on the Import - select the localized template file (*.cpr).

A new localized template should appear in the list.
Double-click on the localized template to generate a report.

If there some issues with the fonts in the generated report, then copy all the *.ttf files from the extracted Fonts folder
to the /usr/share/fonts/truetype/ directory on the R80 Management Server and generate a report again.
Example: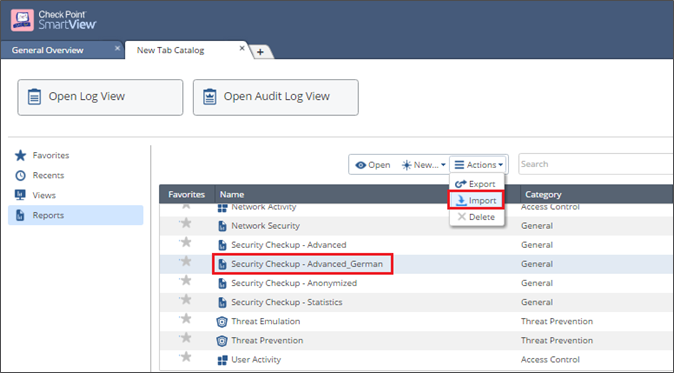 | | |
| --- | --- |
| | This solution has been verified for the specific scenario, described by the combination of Product, Version and Symptoms. It may not work in other scenarios. |