Threat Emulation Appliances: TE100X, TE250X, TE1000X, TE2000X (SandBlast)
Technical Level
| | |
| --- | --- |
| Solution ID | sk106210 |
| Technical Level | |
| Product | Threat Emulation |
| Version | R77.30 (EOL), R80.10 (EOL), R80.20 (EOL), R80.30 (EOL), R80.40, R81, R81.10, R81.20 |
| OS | Gaia |
| Platform / Model | Threat Emulation |
| Date Created | 01-Oct-2015 |
| Last Modified | 29-Jan-2023 |
Solution
This article describes the new Threat Emulation Appliances - TE100X, TE250X, TE1000X, and TE2000X.
Table of Contents
Overview

Downloads

Documentation

Known Limitations

Related Solutions


Visit Check Point CheckMates Community to ask questions or start a discussion and get our experts assistance.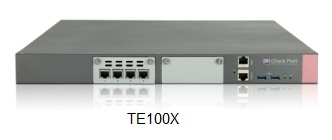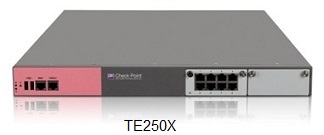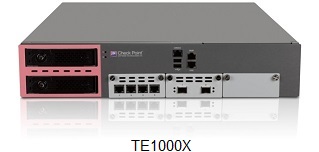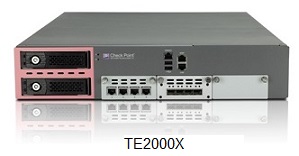 Overview
Threat Emulation prevents infections from undiscovered exploits, zero-day and targeted attacks. This innovative solution quickly inspects incoming files, launches suspicious files in a virtual sandbox, discovers malicious behavior and then prevents discovered malware from entering the network. The Emulation appliance is an on-premise solution to emulate threats.
Key Features:
Identify new attacks hidden in Adobe PDF, Microsoft Office, Java, Flash, and executable files.
Emulate files and documents for threats in a secure sandbox.
Protection against attacks targeting multiple Windows operating system environments.
Emulate files within SSL and TLS communications.
Prevent malicious files from entering the organization.
Includes the Threat Emulation, Threat Extraction, Anti-Virus and Anti-Bot software blades, providing comprehensive protection from advanced threats.
Deploy inline or as a private cloud. In private cloud mode, the appliance provides an emulation service for all security gateways across the organization?s network.
Downloads
Note: To download this package you will need to have a Software Subscription or Active Support plan.
| | |
| --- | --- |
| Download Package | Link |
| Check Point R81.20 | sk173903 |
| Check Point R81.10 | sk170416 |
| Check Point R81 | sk166715 |
| Check Point R80.40 | sk160736 |
| Check Point R80.30 | sk144293 |
| Check Point R80.20 | sk122485 |
| Check Point R80.10 | sk111841 |
| Check Point R77.30 for Sandblast TE100X / TE250X / TE1000X / TE2000X appliances | (ISO) |
Notes:
To install Jumbo Hotfix Accumulator for R77.30 on Sandblast appliances, use Take 216 and higher.

The previous images for TE100X, TE250X, TE1000X, TE2000X SandBlast Appliances are still available for download in sk114513.

The Hard Disk Drives on these Threat Emulation appliances are hot-swappable.
Documentation
Datasheet
TE100X and TE250X Appliances Getting Started Guide
TE1000X and TE2000X Appliances Getting Started Guide
TE100X, TE250X, TE1000X, TE2000X Appliances Quick Start Guide
TE1000X and TE2000X Appliances Replacing HDD
4000, 12000, 13000, Smart-1 3050 / 3150, TE Appliances Replacing Expansion Line cards
TE250X, TE1000X, TE2000X Appliances Replacing Power Supply Units
4000, 12000, TE Appliances Mounting Sliding Rails
TE100X, TE250X, TE1000X, TE2000X Appliances R77.30 Image Management
Known Limitations
ID
Symptoms
-
CD-ROM installation is not supported on TE250X, TE1000X, TE2000X models.
It is supported on TE100X model.
01652918
To install the R77.30 image on new Threat Emulation appliance using a USB key, refer to sk65205 - How to install SecurePlatform / Gaia from a USB device on Check Point appliance and Open Servers using ISOmorphic Tool - section "Installing Gaia / SecurePlatform OS on the Appliance / Open Server using the USB device" - in Step 7 (the boot option), enter smart1.
01674580
In the TE250X appliance, a second Power Supply Unit is optional. When a second PSU is not installed, Gaia OS reports it as "Value=Down" and "Status=Off". This is different from similar appliances (e.g., 4800), where a filler is closing a circuit, thus behaving as if a PSU is installed.
Note - Officially supported 3rd party integrations with Check Point Threat Emulation Appliances use only ICAP and API. Any other 3rd party integration might have technical limitations that can negatively affect the deployment. Contact Check Point Solution Center (through the local Check Point office) to evaluate possible limitations in your specific environment.
Related Solutions